Details of events taking place within the Ards & North Down, Ards Peninsula and Strangford Lough area. If you are organising an event please email us on admin@ferryfm.com and we'll list it here.


Experience Ards and North Down through a range of guided walks and tours in 2019!

Explore Ards and North Down through a unique series of coach, boat and walking tours, which allow you to experience some of the wonderful sights and attractions the area has to offer. With lots of new opportunities to discover the history, heritage and mystery of the borough, book now, so you don't miss out!

Visit Portaferry's Market on the Square on the first Saturday of the month

Portaferry's Market on the Square takes place on the first Saturday each month between April and December.

The Portaferry area has a wealth of talented and creative people so call down to the newly restored 18th century Market House and treat yourself to some great locally produced artisan food and arts and crafts. Fun activities for children and music make the Market a must visit for all the family. Experience the atmosphere, get your taste buds tingling and fill your shopping bags with all manner of unique treasures and tasty treats. .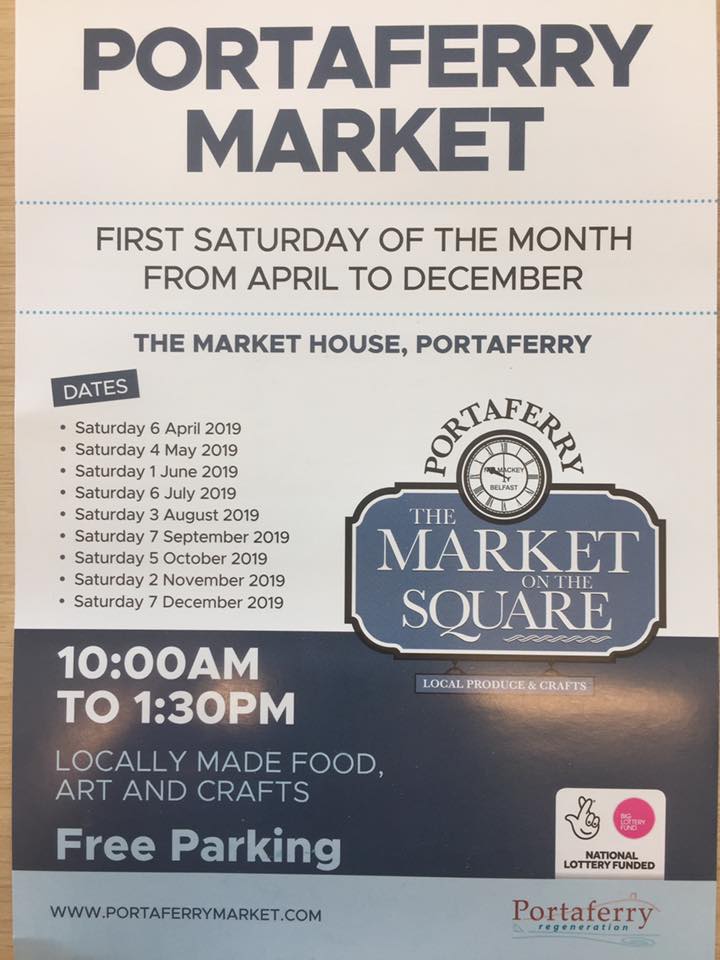 .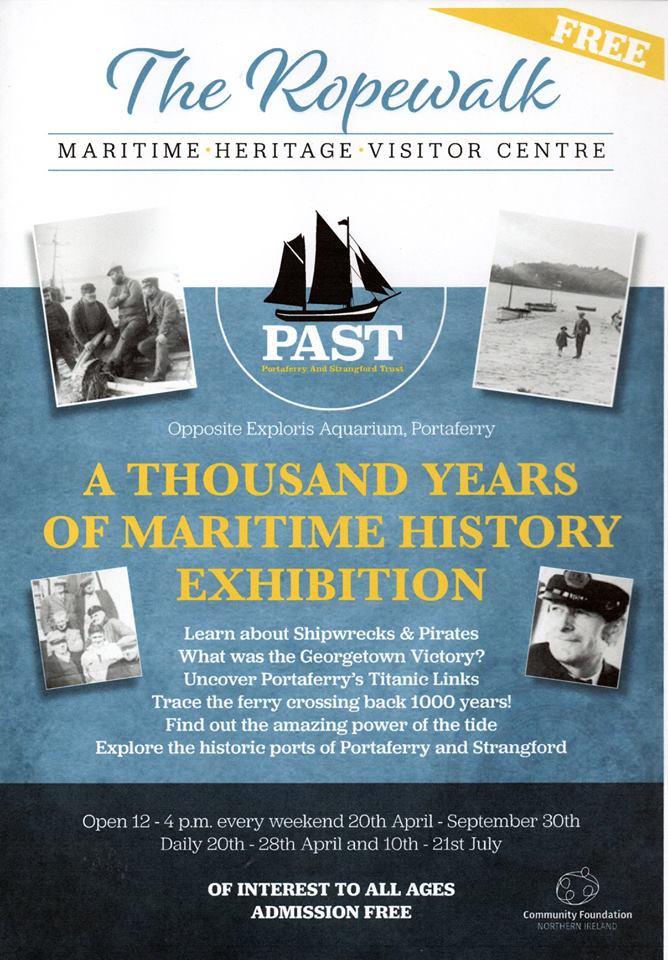 .
Giant bug invasion at Castle Espie
WWT Castle Espie, 78 Ballydrain Road, Comber BT23 6EA
3rd May to 2nd June 2019
Tel: 028 9187 4146
Times: Mon – Fri: 10am to 5pm; Weekends: 10am to 5.30pm
Website: wwt.org.uk/wetland-centres/castle-espie/

GIANT Bionic Bugs are invading WWT Castle Espie Wetland Centre this May searching for the World's Largest Bug Hotel.

Have a bug-filled adventure this May as Castle Espie is taken over by six giant Bionic Bugs.

Meet a 6ft long dragonfly, 6ft wingspan butterfly, ant, grasshopper, 4ft buzzing bee, all brought to life with state of the art animatronics and sound effects.
.
Nendrum and Newtownards Priory Tours
Saturday 8th June
£: £5 per tour; £3 (child)
W: Book tour
Nendrum Ecclesiastic Site 11am – 12 noon
Nendrum, Mahee Island, Comber, BT23 8EZ
Enjoy a guided tour of this atmospheric island site with Department of Communities Historic Environment Division guides.
Newtownards Priory 3-4pm
Court Street, Newtownards, BT23 7NY
A great opportunity to visit Newtownards Priory with a Department of Communities guide to help you discover this fascinating site.
Maritime Memories Tour – Friday 31 May 2019
Tel: 028 9182 6846
Web: Visit Ards and North Down

Learn about the wealth of maritime history on this coach tour of the Peninsula. Start your day in North Down Museum and discover the links to the sea. Continue your journey to the Eisenhower Pier in Bangor and learn of the important role of the Coastguard in modern day. Heading on through Groomsport and stopping off at Donaghadee where you will visit the Lifeboat station and also the Sir Samuel Kelly lifeboat which rescued survivors from the MV Princess Victoria in 1953. Sit back and enjoy a tasty lunch in Pier 36 before travelling down the Peninsula to Portavogie where you will hear of local legends and tales of the sea before heading back to Bangor.

Book Tickets:- Martime Memories Guided Tour


Belfast Titanic Maritime Festival
25 – 27th May 2019
Titanic Quarter, Belfast
Web: Maritime Festival
Tel:

Belfast Titanic Maritime Festival returns to the city's Titanic Quarter on 25-27 May 2019. Climb aboard magnificent tall ships, explore Belfast's maritime heritage and enjoy amazing family fun.

Returning for its 11th year, our quaysides will come alive on the last bank holiday weekend in May, from 25 – 27 May 2019.

Visitors are invited to:
– Hop aboard some magnificent vessels
– sample an array of martime-themed family fun and food
– watch roving international street performers and shows

There will also be lots to see and do over the weekend in Titanic Quarter with live music, authentic nautical cuisine and family fun. You'll also be able to experience Belfast's rich maritime heritage through a bumper-packed programme of free activities along the Maritime Mile.



Ards Puppet Festival
26 – 27th May 2019
Ards Arts Centre, Conway Square, Newtownards. BT23 4NP
Tel: 028 9181 0803
Website: www.visitardsandnorthdown.com

The Puppet Festival returns once again to Conway Square with a jam-packed programme of puppet fun and antics! Meet lots of quirky characters, enjoy some quality live shows or get creative at the free puppet workshops! Fun for all the family.

Over the two days, Ards Arts Centre and Conway Square will be buzzing with an eclectic mix of scheduled performances, free puppet workshops and plenty of madcap puppet shenanigans! Expect puppets in all shapes and sizes, from socks to strings and even glow in the dark!

The Festival is thrilled to welcome Lyngo Theatre to this year's programme to perform their 'Tom Thumb' and 'Jack and the Beanstalk' shows at Ards Arts Centre. Not your usual puppet shows – these classic fairy tales will be brought to life with fascinating and magical performances by Patrick Lynch of Cbeebies fame. The whole family will be entertained!

From 13 – 24 May, the Puppet Scavenger Hunt will take place around Ards Town Centre. Follow the clues and spot the crazy characters to win a prize and be in with a chance of winning a Family Pass to the Black Adventure Zone at the Ards Blair Mayne Wellbeing and Leisure Complex.

To find out about all the events in the festival this year, check out the Puppet Festival Flyer
Snow Patrol, Bangor 2019
Ward Park, Hamilton Road, Bangor, County Down. BT20 4LG

The band announced in February "We are beyond excited to announce that one of Northern Ireland's biggest ever international acts Two Door Cinema Club will be joining us at Ward Park 3 in Bangor, NI on 25th May. They complete a dream bill of Foy Vance, ASH, SOAK., Jealous Of The Birds, Brand New Friend, JC Stewart, The Wood Burning Savages, Kitt Philippa, and ROE."

"Northern Irish music at the moment is in its rudest health. It's very exciting to be able to celebrate that at a time that when it's a good time to celebrate all the good things about Northern Ireland," Gary Lightbody said. "Northern Irish acts all the way."

Ards and North Down Borough Council Chief Executive, Stephen Reid said: "The two previous gigs were fantastic events for everyone who attended and gave a significant boost to residents and businesses in the town. We look forward to working with all those involved to make this a truly fantastic and memorable concert."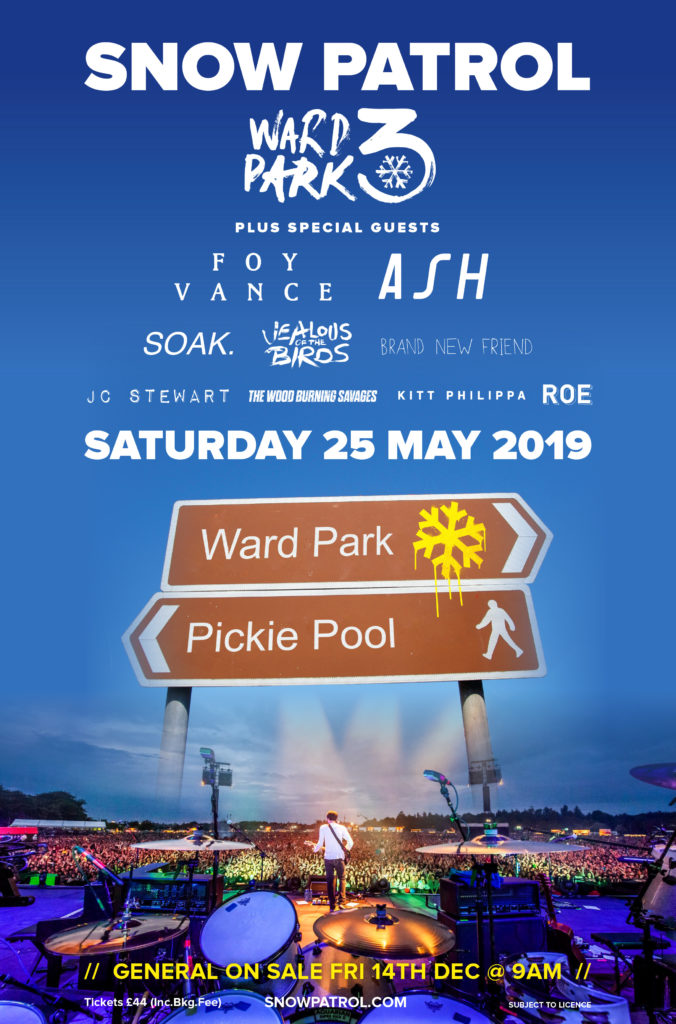 .

Otter MAYhem at Exploris
27 May 2019
10am – 5pm (last entry 4pm)
Normal admissions apply. See website for entry charges.

Come and meet our River family, as we combine Spring Bank Holiday and World Otter Day. Take part in animal talks, animal meet and greets and feeding demos as well as some otter madness crafts and lots more entrainment for all the family.

You'd be Otter-ly mad to miss this event!

For full details including demonstration & activity times please visit explorisni.com.

Book your tickets online (24hours in advance) to be fast tracked and discounted.

Free parking and disabled parking available. Café, lifts, toilets, baby changing, gift shop, picnic area and soft play area on site.


Harmony Live 2019
31 May 2019 – 2 June 2019
Opening Times: 7pm – 10.45pm
Holywood Rugby Club
Ticket Options available from £22
Various free music will take place throughout the weekend
Tel: 028 9182 6846

Harmony Live returns to Holywood this early June with a spectacular line up, its a guarenteed great weekend! Headlining this year are big names such as Feeder and Fun Loving Criminals


Friday 31st May: Aslan, The Adventures & The 4 Of Us 

Saturday 1st June: Feeder, Fun Lovin' Criminals, supported by Dea Matrona

Sunday 2nd June: The Alabama 3 (acoustic), Villiers & The Villains, Ciaran Lavery supported by The Alexanders.



Annual Sea Bangor Festival
Quay Street, Bangor, County Down, BT20 5ED
Telephone: 028 9127 0069
Website: www.visitardsandnorthdown.com
1st June 2019 – 10.00am to 6pm
2nd June 2019 – 12noon to 6pm
Email: bangorvic@ardsandnorthdown.gov.uk

Located beside the marina, the annual event transforms the car park on Quay Street into a tented village hosting family friendly activities for the little ones and the big ones, with on the water activities such as have a-go-kayaking. An Under the Sea theme will see local artists repurposing recycled materials, with hands on opportunities for children to take home their own works of arts and crafts.

Live music will resonate from the Shanty Shack.

Indulge in something sweet or savoury from one of the many local artisan food stalls.

Sea Bangor promises to be an all-round nautical experience for the whole family!



World Ocean Day at Exploris
Exploris Aquarium, Castle Street, Portaferry. BT22 1NZ
Tel: 028 4272 8062
Web: www.explorisni.com
10am – 5pm (last entry 4pm)
Normal admissions apply. See website for entry charges.

Protecting the World's Oceans is extremely important to us all and here at Exploris Aquarium we would love to share our knowledge on how you can help. On world ocean day you can do your part through workshops and craft activities throughout the day. Dive on in!

For full details including activity times please visit explorisni.com. Book your tickets online (24hours in advance) to be fast tracked and discounted.

Free parking and disabled parking available. Café, lifts, toilets, baby changing, gift shop, picnic area and soft play area on site.


Seaside Revival Vintage Festival
Saturday 6 July 2019
1pm – 8pm
Tel: 028 9127 0069

Seaside Revival is a vintage festival celebrating Bangor's heyday as a thriving seaside resort. It is a free event on the seafront and features vintage stalls, sea swimming, vinyl record fair, fashion show, classic cars, dog shows as well as live music and dancing from the era of Bangor's famous dancehalls.

Seaside Revival Vintage Festival, funded by the Heritage Lottery Fund, aims to revive positive memories of Bangor-by-the-Sea, and use them to create new ones.

The event is an outdoor event on Bangor's seafront, however there will be lots of activities which will be under cover, in marques and gazebos including a covered stage area and bar; our see, make and do tent; and individual stall holders will each be under gazebos.

Event will stretch from Mckee Clock, along the promenade, past Pickie Fun Park and round to Pickie beach. Free and paid parking will be available across the town, in addition to off street parking. We would also encourage visitors to travel by train.



Heydays and Holidays Exhibition
08 June 2019 – 31 January 2020
Down County Museum, The Mall, Downpatrick. BT30 6AH
Tel: 028 4461 5218
Web: www.downcountymuseum.com

This exhibition features a wide range of images, objects and documents illustrating the theme of holidays and special days.
Sails and Sounds Festival 2019
20 June 2019 – 23 June 2019
Email: portaferrysailsandsounds@gmail.com
Web: Portaferry Sails and Sounds


Portaferry Sails & Sounds Festival 4 day festival celebration of Boats. Classic and rowing boats, sailing regatta and parade of sail. Music, traditional dance & culture. Food demonstrations and boat trips on Strangford Lough. Walking tours, kids entertainment and crafts.

Foraging, RNLI and QUB open days, theatre, Maritime Centre exhibits and interactive events. Visit Exploris and surrounding area. Boat building demonstrations, junior sailing sessions, rowing and lots more. The festival caters for everyone, both locals to tourists. All accessible and affordable events with local shops and eating outlets welcoming everyone.

Fabulous offers throughout the festival. Portaferry and Strangford Lough are areas of natural outstanding beauty and a unique venue for the Sails and Sounds Festival.


Download the Flyer

Jelly Fish Appreciation Day at Exploris
29th June 2019
10.00am – 5.00pm (Last admission 4pm) (Normal Admission Prices apply)
Exploris Aquarium, The Rope Walk, Castle Street, Portaferry. BT22 1NZ
Tel: 028 4272 8062


June is the time of year for Jellyfish arriving at Strangford Lough, come get up close and learn all about these hypnotic creatures, through our talks, workshops and fun crafts.

For full details including demonstration & activity times please visit explorisni.com.

Book your tickets online (24hours in advance) to be fast tracked and discounted.

Free parking and disabled parking available. Café, lifts, toilets, baby changing, gift shop, picnic area and soft play area on site.


Portaferry Gala Week
Saturday 13th July – Friday 19th July 2019
Website: www.portaferrygalafestival.com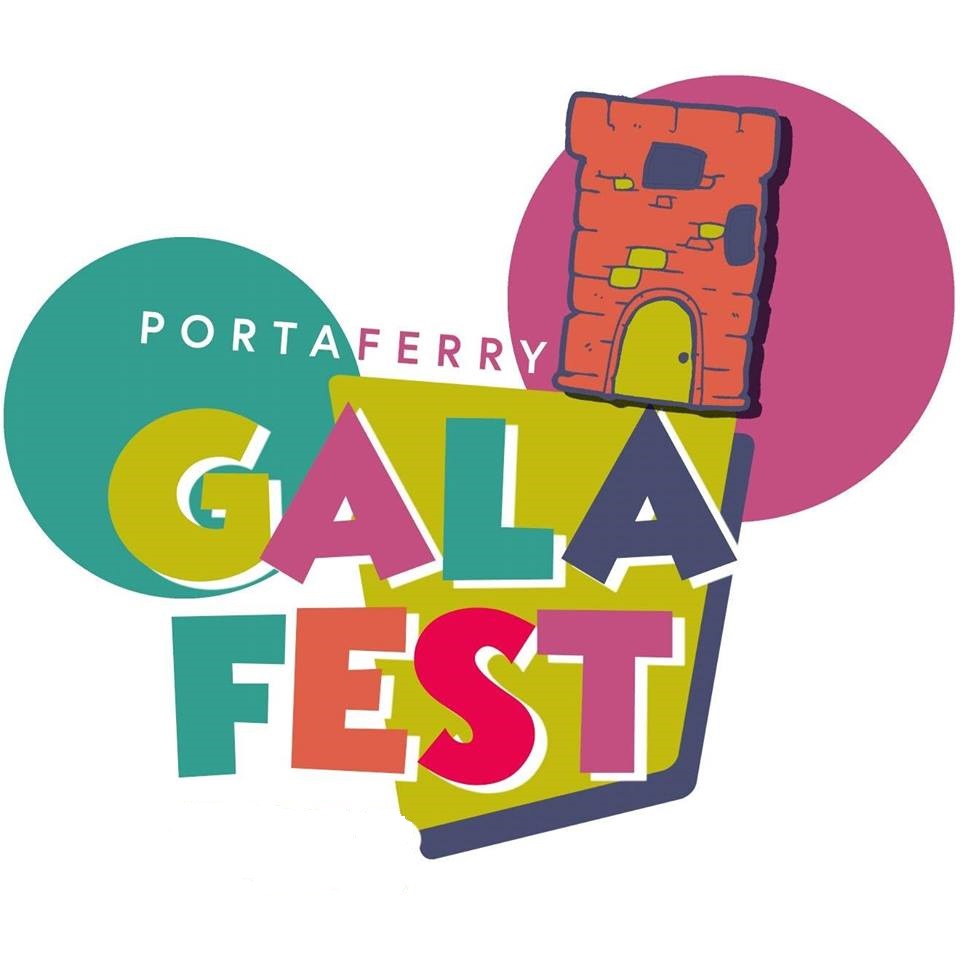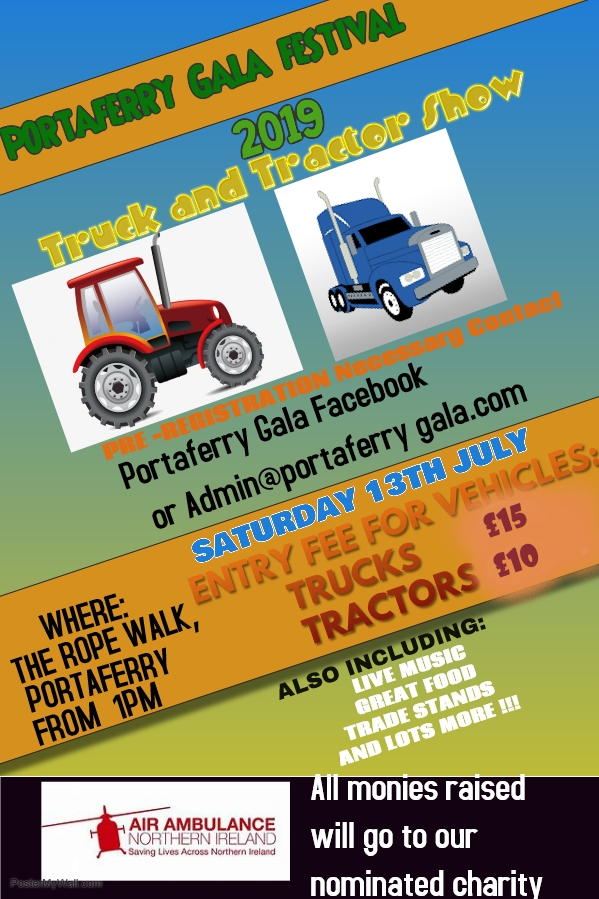 Summer Market at the Museum
27 – 28 July 2019
Sat: 10.00 – 4.30pm
Sun: 12.00 – 4.30pm
North Down Museum, The Castle, Bangor. BT20 4BT
Tel: 028 9127 1200

The popular Summer Market returns once again to North Down Museum. Come along and browse the market stalls, dotted around the historical museum building, selling unique, handmade items by local artists and crafters.

Enjoy some live music whilst you grab a bite to eat or have a bite to eat in the Museum Café.


Open House Festival
Bangor, County Down
1st – 31st August 2019
Wed: www.openhousefestival.com

The Festival returns for its seventh year with around 140 free and ticked events in 40 venues across the town. The eclectic programme includes music, books, film, theatre, food & drink, talks & tours, comedy, spoken word and visual art.

Why not take the train to Bangor? Enjoy stunning coastal scenery whilst relaxing, remove the hassle of parking and go green for the environment! Plan your journey with Translink

On the 25th August The Specials will be playing at Bangor Seafront as part of the Open House Festival, there will also be free buses to Belfast.

The free buses will depart from Bangor Seafront at 10.30pm going to Belfast City Hall. Pre-booking is essential – only ticket holders who have booked their place will be allowed on the bus.


OTHER EVENTS
Tour and tasting at Echlinville
Saturdays – times vary – check website for details
Echlinville Distillery, Echlinville House, 62 Gransha Rd, Newtownards, BT22 1AJ
£: £15 per person – booking essential
T: 028 4273 8597
W: Echlinville
Echlinville Tours offer a real insight into the workings of Northern Ireland's first licenced distillery in over 125 years. Guests will be personally welcomed and guided through the process, from the barley arriving from the fields, through to the maturation warehouse where the Angels are certainly enjoying their share.
Traditional Irish Bread Making
See website for dates and times
£: £50
T: 07711 484850
W: Traceys Farmhouse Kitchen
52a Ballymorran Road, Killinchy, BT23 6UD
Learn how to make traditional Irish breads in Tracey's thatched cottage on the shore of Strangford Lough, then savour the fruits of your labours, served with tea/coffee, award-winning local butter and homemade jams from the local hedgerows. Take away a bag of tasty treats along with the recipes so you can recreate your masterpieces at home.
Walking tours with Ards Peninsula Tours
Each Wednesday, Friday and Saturday
£: From £10
T: 07763 898074
W: Ards Peninsula Tours
Discover the hidden gems of the beautiful Ards Peninsula on a walking tour with local guide, Brigid Watson. Booking essential. Coach tours and private tours available by arrangement. Online booking facility available on Facebook and website.
Boat trips from Donaghadee aboard the MV Mermaid
Various dates and prices
T: 07746 633365
W: Island Boat Charters Donaghadee
Fishing and wildlife trips aboard the MV Mermaid. Check Facebook page for times and dates. Booking essential. All trips are weather dependent.
Birdwatch Morning at Castle Espie Wetland Centre
Last Wednesday of the month/10.30-11.30am
£: included in admission
T: 028 9187 4146
W: Castle Espie
Join the wardens at Castle Espie to see what is new on the reserve and on the Lough as the seasons change. Bring binoculars if you have them, stout footwear is recommended.
.
For full details of all events taking place in the local area please contact :

Newtownards Visitor Information Centre
31 Regent Street, Newtownards, BT23 4AD
T: +44 (0) 28 9182 6846
E: ardsvic@ardsandnorthdown.gov.uk
W: visitardsandnorthdown.com

Current Opening Hours:
Mon‐Fri: 09.15 ‐ 17.00
Sat: 09.30 ‐ 17.00
Sun: Closed
..
Portaferry Visitor Information Centre
The Stables, Castle Street, Portaferry, BT22 1NZ
T: +44 (0) 28 4272 9882
E: portaferryvic@ardsandnorthdown.gov.uk
W: visitardsandnorthdown.com


Open Good Friday – end of September
Mon-Sat: 10.00 – 17.00
Sunday: 13.00 – 17.00

Downpatrick Visitor Information Centre
The Saint Patrick Centre, 53a Market Street, Downpatrick,Co Down. BT30 6LZ
Web: www.visitstrangfordlough.co.uk
Email: downpatrick.vic@nmandd.org
Tel: (028) 4461 2233

For information on events within Strangford / Downpatrick / Ardglass / Newcastle


Newcastle Visitor Information Centre
10-14 Central Promenade, Newcastle, County Down. BT33 0AA
T: (028) 4372 2222
E: newcastle.vic@nmandd.org