Details of events taking place within the Ards & North Down, Ards Peninsula and Strangford Lough area. If you are organising an event please email us on admin@ferryfm.com and we'll list it here.


Tim Peake's Spacecraft Tour at Ulster Transport Museum
Until Sunday 12 May
Ulster Folk & Transport Museum, Cultra, Holywood
£: Nomal admission prices aplly
T:028 9042 8428
W: Tim Peake
An exciting opportunity to see a real astronaut capsule. The Soyuz capsule, which transported British astronaut Tim Peake safely back to Earth after his mission on the International Space Station is landing at the Ulster Transport Museum. The Soyuz TMA-19M capsule transported European Space Agency astronaut, Tim Peake, and his crewmates Yuri Malenchenko and Tim Kopra to the International Space Station on the Principia mission.See Tim Peake's Sokol KV-2 emergency spacesuit. Enjoy interactive displays about the International Space Station and learn about life in space.
Giant LEGO Brick Trail
Saturday 2 – Sunday 31 March
Castle Espie Wetland Centre, Ballydrain Road, Comber, BT23 6EA
£: trail included in admission.
T: 028 9187 4146
W: Lego Brick Trail
The Giant LEGO Brick Trail is back by popular demand! Enjoy the individually-designed LEGO brick characters, some up to twelve times life size, include Natalie the Nene, the world's rarest goose and Benedict the Bewick's swan, magnificently stretching his brick wings.
LEGO Brick Workshops
Saturdays & Sundays in March/12noon, 1pm & 2pm
Castle Espie Wetland Centre, Ballydrain Road,
Comber, BT23 6EA
£: £10
T: 028 9187 4146
W: Book now
Interactive workshops for all Lego fans – complete three exciting tasks during the hour long workshop including building your own Lego owl to take home. Suitable for ages 4+. Children must be accompanied by adults at all times (and vice-versa!). Booking essential.
Tides of Life – Plants and Animals of Strangford Lough
Friday 15 March/7.30pm
Barholm, Portaferry, BT22 1PF
£: Free
T: 07834 539566
A presentation by Joe Breen on local plants and animals found in Strangford Lough. The unique collection of biodiversity forms was the main reason for Strangford Lough being designated as Britain's first Marine Protected area in 1995.
Freak Show
Friday 15 March/7.30pm
Portico, Portaferry, BT22 1LE
£: £15 under 25's £5
T: 028 4272 8808
W: Book now
A highly inventive blast of theatre which collides comedy, visuals and taut poetic text with true stories of people who were displayed as freaks in the 18th Century. Fast talking eejits are hell bent to get rich quick with their bizarre bazaar of curiosities and the unexpected, but they get more than they bargained for in this radical roadshow of revenge. Presented by Big Telly Theatre Productions. Age 12+ (No strong language or content, dark humour).
Living History at Grey Abbey
Saturday 16 March/1-5pm
Grey Abbey, Greyabbey, BT22 2NQ
£: Free
Find out about Herbs and the Curing Arts in the Physic Garden at Grey Abbey at this Living History event.
Sundown Market – CANCELLED DUE TO BAD WEATHER
Saturday 16 March/ 3pm-9pm
Project24, Queen's Parade, Bangor, BT20 3BJ
£: Free Entry
T: 028 9147 1780
W: Sundown Market
Project 24 Welcomes the Sundown Market back to bangor this March. The market will offer such delights as gourmet street food, live music and a pop-up pub and prossecco bar! Sample food from artisan food companies and some local offerings from bangor eateries.
St Patrick's Day at Exploris
Sunday 17 March
Exploris, Portaferry, BT22 1NZ
£: normal admission
T: 028 4272 8062
W: Exploris
Join in with all the craic and banter this St Patrick's with Exploris's underwater and reptilian friends. Additional Snake demonstrations led by the team of Aquarists, daily animal demonstrations, themed arts and crafts and a mer-mazing face painter will be joining the craic this St Patrick's Day at Exploris Aquarium.
.
St Patrick's Day
St Patrick's Community Centre
Sunday 17th March 2019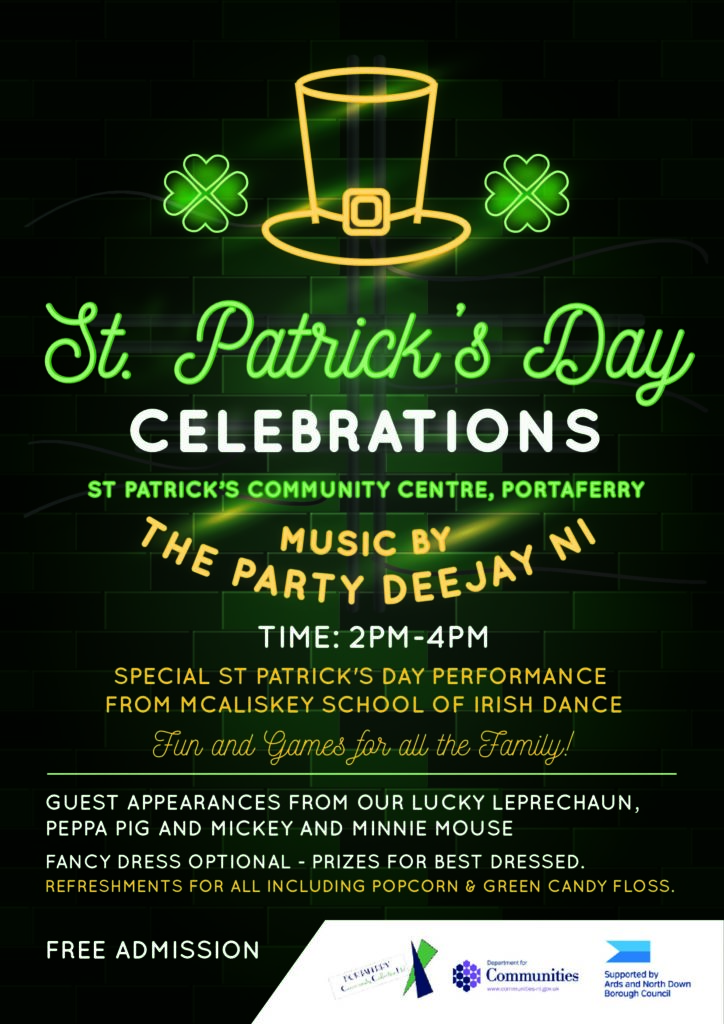 St Patrick's Day Celebrations at Ulster Folk Museum
Sunday 17 March/ 10am-5pm
Ulster Folk Museum, Cultra, Holywood, BT18 0EU
£: normal admission
T: 028 9042 8428
W: St Patrick's Day
Join us for a traditional celebration from over 100 years ago as you and your family are transported back in time. Enjoy some traditional music and dance performances from musicians and Irish dancers throughout the day. Learn more about a host of traditional crafts from the museum's team of visitor guides including basket making, tweed weaving, straw rope making and blacksmithing. Food enthusiasts can experience traditional open-hearth baking and sample the very best of Irish cuisine with champ, potato bread and drop scones.
.
Music in the Chamber: Daoiri Farrell
Thursday 21 March/8pm
Bangor Castle, Bangor, BT20 4BT
£: £12 including refreshments
T: 028 9181 0803
W: Ards Arts- Daoiri Farrell
One of the most important singers in Irish folk music, Daoiri Farrell has won two BBC Folk Awards. With his powerful and distinctive voice it is no wonder he has been championed by the likes of Christy Moore and Donal Lunny.
Donaghadee Male Voice Choir
Friday 22 March/7pm
Aurora Leisure Complex,3 Valentine Road, Bangor, BT20 4TH
£:£10
T: 028 9182 6846 or 028 9127 0069
W: Book tickets
Donaghadee Male Voice Choir in concert with Ballyholme Primary School and Crawford Bell. Tickets from Dunn's Footwear, Donaghadee; Ards and Bangor Visitor Information Centres; North Down Museum and Ards Arts Centre.
Don Alder at Portico
Friday 22 March/7.30pm
Portico, Portaferry, BT22 1LE
£: £17; under 25s £5 including refreshments
W: Don Alder
Canadian Don Alder has earned his place as one of the top acoustic guitarists in the world. With lyrical and compelling songs, his phenomenal finger style playing and rich voice captivate.
For Better For Worse
Friday 22 & Saturday 23 March/7.30pm
Comber Primary School,Darragh Road, Comber, BT23 5BX
£: £8
T: 028 9754 1273
Killinchy Players present a three act comedy by Jimmy Keary.
.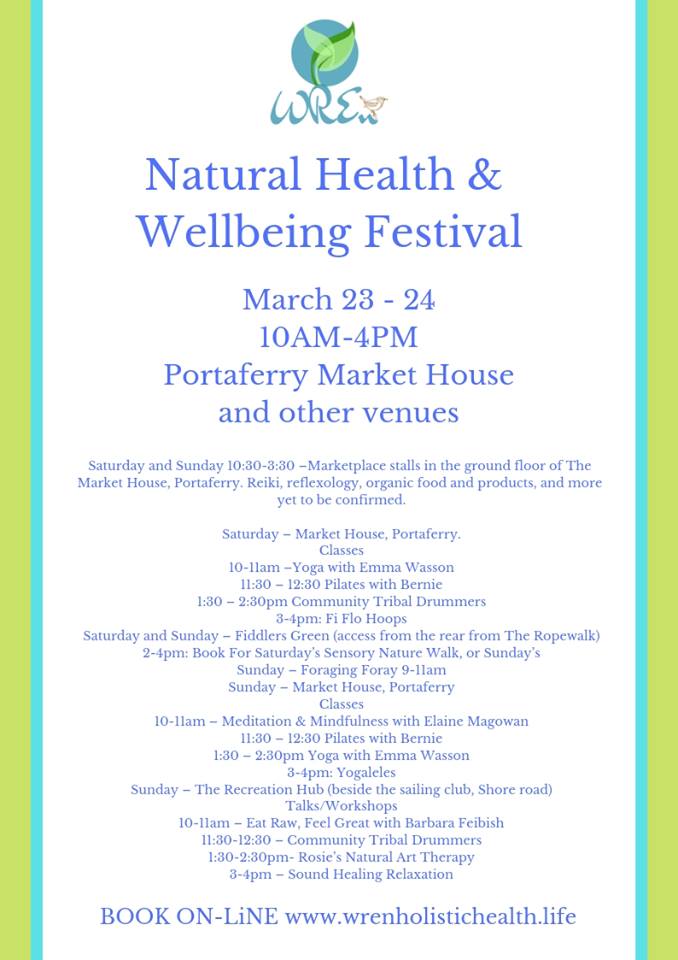 International Day of the Seal
Saturday 23 March
Exploris, Portaferry, BT22 1NZ
£: normal admission
W: Exploris
Join Exploris on the International Day of the Seal for free taster workshops on how to identify sick or injured seals. Learn the importance of helping these beautiful creatures. Sessions take place at 10:30am, 12:30pm and 3:00pm. Places will be allocated on a first come first served basis.
6pm – Seal Rescue Workshop. Places are limited on this course which will allow you to, acting on behalf of Exploris Aquarium, rescue and transport pups in need of rescue.
The course costs £30 and runs from 6pm – 9pm. Email amy@explorisni.com to reserve a place. Strictly over 18s.
Spring Demesne Walk at Mount Stewart
Saturday 23 March/10am – 1pm
Mount Stewart, Portaferry Road, Newtownards, BT22 2AD
£: Normal admission
T: 028 4278 8387
W: Spring Demesne Walk
Enjoy a three mile walk through the rolling countryside of the demesne and discover the wealth of wildlife, history and stunning landscape of this unique estate. Booking essential.
Family Fun Day
Saturday 23rd March 2019. 12noon – 3pm
Elim Complex, Balloo Crescent, Bangor. BT19 7WP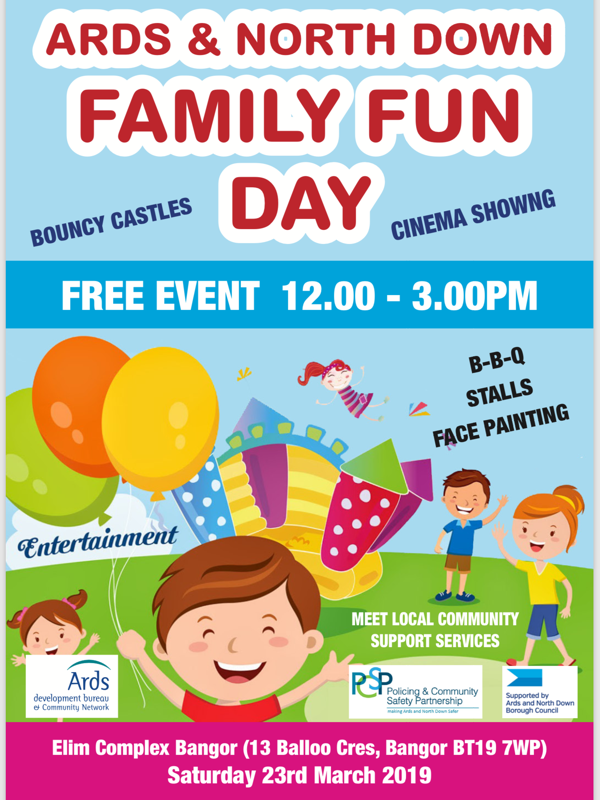 Chamber Philharmonic Europe
Saturday 23 March/7.30pm
Portico, Portaferry, BT22 1LE
£: £20; under 25's £5
T: 028 4272 8808
W: Kammerphilharmonie-europa
Portico welcomes the Kammer Philharmonie Europa to Portaferry for what promises to be an evening of exceptional chamber music. With an outstanding reputation and exciting programme, this is a concert not to miss.
For guitar and music lovers everywhere, this year's Ards International Guitar Festival is jam packed with slap tapping, plectrum plucking, foot stompin' gee-tar playing to suit everyone's taste!

Featuring internationally renowned musicians, you'll also find free fringe concerts, clinics with guitar professionals, a Rory Gallagher memorabilia exhibition, a Metallica film screening, and George Lowden in conversation.


Featuring:
Mike Dawes, Ariel Posen, Simon McBride, Gary Ryan, Ali Tod, Síomha,
Alexandr Misko, Megan O'Neill and the Dunwells, George Lowden, Dónal Clancy,
Shane Hennessy, Ronnie Greer and Bill Shanley, John Tracey, Amanda Agnew,
Rory Nellis, Kyle RileyThe HardChargers, Dea Matrona, Hugo Boitel-Gill,
Classical Guitar Society of Northern Ireland
Tickets are on sale now, so book early to avoid disappointment!
www.ardsguitarfestival.co.uk


Annual Model Exhibition
Saturday 13th April 2019 – 10.00am – 5pm
Sunday 14th April 2019 – 12noon to 5pm
Bangor Grammar School, Gransha Road, Bangor BT19 7QU
Website: North Down Model Railway Society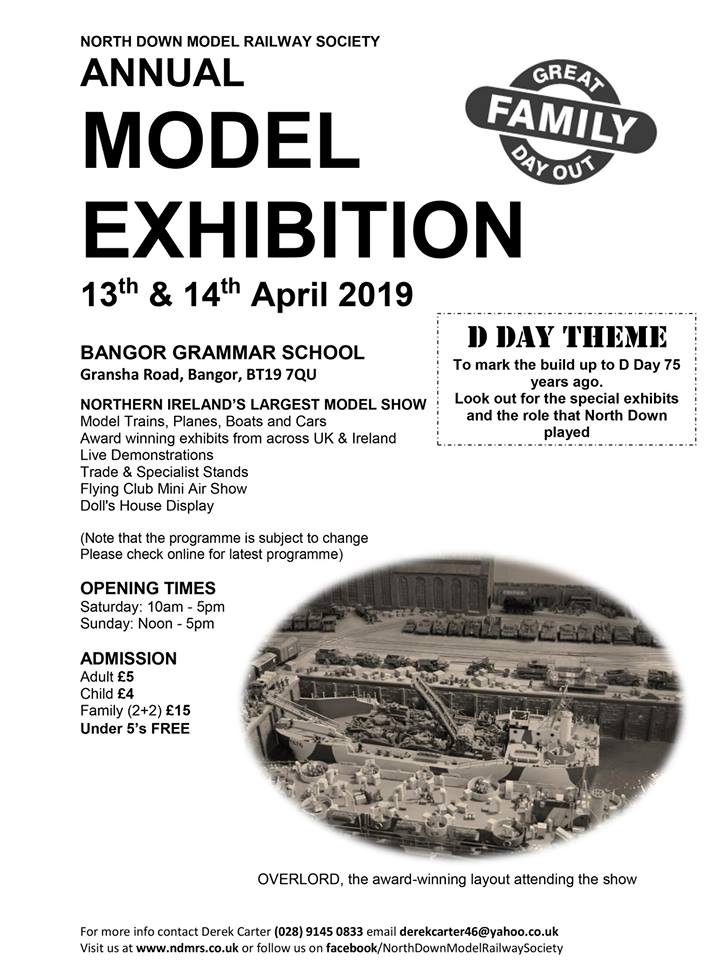 Portaferry Gala Week
Saturday 13th July – Friday 19th July 2019
Website: www.portaferrygalafestival.com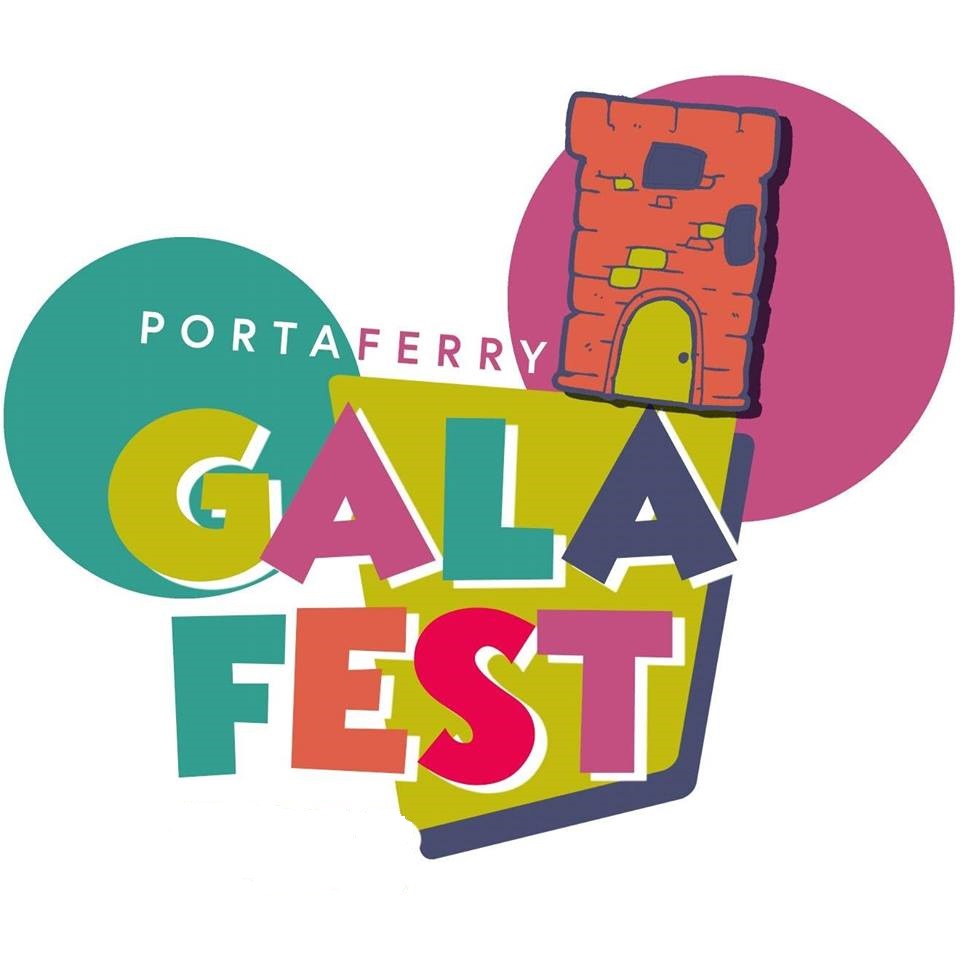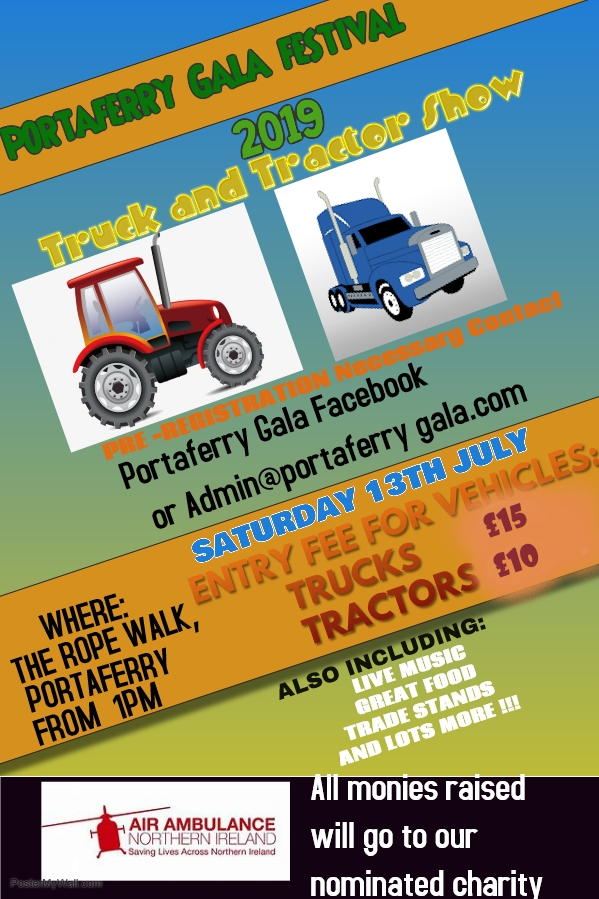 OTHER EVENTS
Tour and tasting at Echlinville
Saturdays – times vary – check website for details
Echlinville Distillery, Echlinville House, 62 Gransha Rd, Newtownards, BT22 1AJ
£: £15 per person – booking essential
T: 028 4273 8597
W: Echlinville
Echlinville Tours offer a real insight into the workings of Northern Ireland's first licenced distillery in over 125 years. Guests will be personally welcomed and guided through the process, from the barley arriving from the fields, through to the maturation warehouse where the Angels are certainly enjoying their share.
Traditional Irish Bread Making
See website for dates and times
£: £50
T: 07711 484850
W: Traceys Farmhouse Kitchen
52a Ballymorran Road, Killinchy, BT23 6UD
Learn how to make traditional Irish breads in Tracey's thatched cottage on the shore of Strangford Lough, then savour the fruits of your labours, served with tea/coffee, award-winning local butter and homemade jams from the local hedgerows. Take away a bag of tasty treats along with the recipes so you can recreate your masterpieces at home.
Walking tours with Ards Peninsula Tours
Each Wednesday, Friday and Saturday
£: From £10
T: 07763 898074
W: Ards Peninsula Tours
Discover the hidden gems of the beautiful Ards Peninsula on a walking tour with local guide, Brigid Watson. Booking essential. Coach tours and private tours available by arrangement. Online booking facility available on Facebook and website.
Boat trips from Donaghadee aboard the MV Mermaid
Various dates and prices
T: 07746 633365
W: Island Boat Charters Donaghadee
Fishing and wildlife trips aboard the MV Mermaid. Check Facebook page for times and dates. Booking essential. All trips are weather dependent.
Birdwatch Morning at Castle Espie Wetland Centre
Last Wednesday of the month/10.30-11.30am
£: included in admission
T: 028 9187 4146
W: Castle Espie
Join the wardens at Castle Espie to see what is new on the reserve and on the Lough as the seasons change. Bring binoculars if you have them, stout footwear is recommended.
.
For full details of all events taking place in the local area please contact :

Newtownards Visitor Information Centre
31 Regent Street, Newtownards, BT23 4AD
T: +44 (0) 28 9182 6846
E: ardsvic@ardsandnorthdown.gov.uk
W: visitardsandnorthdown.com

Current Opening Hours:
Mon‐Fri: 09.15 ‐ 17.00
Sat: 09.30 ‐ 17.00
Sun: Closed
.
Portaferry Visitor Information Centre
The Stables, Castle Street, Portaferry, BT22 1NZ
T: +44 (0) 28 4272 9882
E: portaferryvic@ardsandnorthdown.gov.uk
W: visitardsandnorthdown.com


Open Good Friday – end of September
Mon-Sat: 10.00 – 17.00
Sunday: 13.00 – 17.00
O